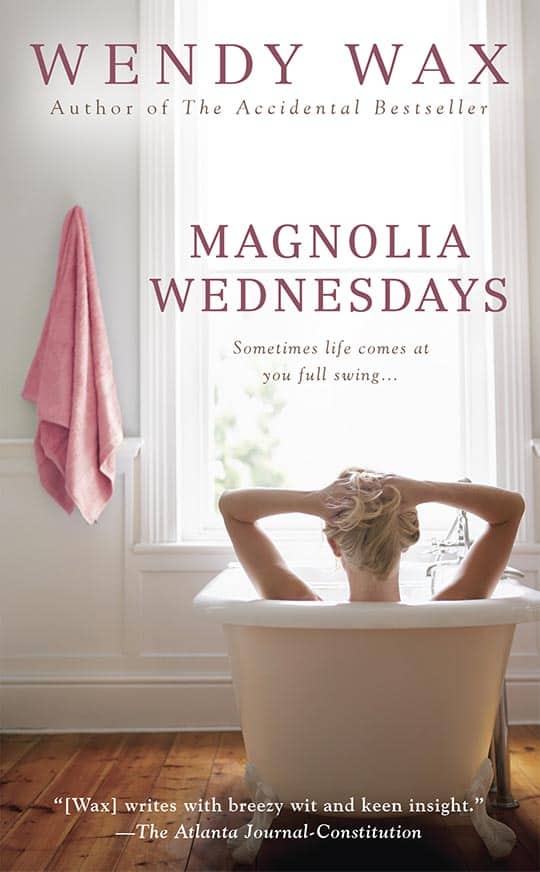 ORDER THE BOOK
Bookshop sales support Indie stores
ABOUT THE BOOK
At forty-one, Vivien Armstrong Gray has spent most of her life fighting to make it in investigative journalism, only to have it crumble after a bullet lodges in her backside during an exposé. As if the humiliation of being the butt of everyone's jokes isn't enough, Vivi learns that she's pregnant, jobless, and very hormonal. Maybe that explains why she actually says 'yes' to a dreadful job covering suburban living back home in Georgia, a column she can only bear to write incognito.
Leaving her tiny apartment in New York, she unwillingly heads south to experience the suburban soccer mom existence through her widowed sister's eyes. Surrounded by mini-vans and bake sales, she has lots of material for the column. Her sister's ballroom dance studio becomes her undercover spot where she learns about the local life while posing as an 'extra' dance partner. But Vivi's little stint starts throwing her for a loop as friendships develop, and a real relationship with her sister blossoms. As she digs up her long buried roots, and begins to secretly investigate her brother-in-law's death, she starts to wonder if life inside the picket fence is so bad after all…
"Bittersweet…Vivien's an easy protagonist to love; she's plucky, resourceful, and witty."
—Publishers Weekly
"An honest, realistic story of family, love, and priorities with genuine characters."
—Booklist
"Wax, the author of The Accidental Bestseller, writes with breezy wit and a keen insight into family relations."
—The Atlanta Journal-Constitution
"Magnolia Wednesdays is a winner brilliant —with acerbic, biting wit. Sweet and satisfying without ever losing that acidic edge. I loved this book and will be looking for more by this author."
—Night Owl Reviews (Top Pick)
"An entertaining read. Wendy Wax painted the perfect picture of suburbia and the trappings that come with it. With whispers of Gone with the Wind hovering in the background, Wax created a modern day story with interesting characters that felt very honest and real."
—Renee C. Fountain at Book Fetish
"Atlanta-based novelist Wendy Wax spins yet another captivating tale of life and love in this wonderfully entertaining book."
—Southern Seasons
"I loved every word of this novel. Wax…scores again with this story of 41-year-old Vivien Gray, who finds herself moving back to Atlanta after her journalism career in New York takes a tumble."
—The Pilot (Southern Pines, NC)
"Wendy Wax has a way of turning a phrase and pulling the reader in. She writes with humor, depth and insight."
—Rainy Days and Mondays
"Magnolia Wednesdays…had me laughing at times and crying at others."
—Peeking Between the Pages
"I thoroughly enjoyed Magnolia Wednesdays. I definitely recommend this book for fans of women's fiction."
—Bermuda Onion's Weblog
"Amazing…this is one to read and recommend…the characters made this book."
—Book Reviews R Us
"I loved how Vivi grew…heart-warming…one that I truly enjoyed."
—So Many Books, So Little Time
"I love a good girly book set in the South…a funny, yet poignant, novel that will take the reader into the wilds of Suburbia Atlanta…heartwarming…a wonderful way to spend an afternoon."
—Charlotte's Web of Books
"Full of fun and surprises… thrilling all the way to the end…you won't be able to put it down."
—Petit Fours and Hot Tamales
"With a memorable cast of characters, a well-crafted story of friendships and family ties, and a plot twist that I certainly did not see coming, "Magnolia Wednesdays" is a fantastic read that you won't be able to put down and most certainly will not want to end."
—Examiner
"A fun, fast read that keeps you interested the entire way through."
—Dew on the Kudzu
Chapter One
Well bred girls from good Southern families are not supposed to get shot.
Vivien Armstrong Gray's mother had never come out and actually told her this, but Vivi had no doubt it belonged on the long list of unwritten, yet critically important rules of conduct, on which she'd been raised. Dictates like, 'always address older women and men as Ma'am and Sir', 'never ask directly for what you want if you can get it with charm, manners or your family name.' And one of Vivien's personal favorites, 'although it's perfectly fine to visit New York City on occasion in order to shop, see shows and ballet, or visit a museum, there's really no good reason to live there.'
Vivien had managed to break all of those rules and quite a few others over the last forty-one years, the last fifteen of which she'd spent as an investigative reporter in that most Yankee of cities.
The night her life fell apart Vivi wasn't thinking about rules or decorum or anything much but getting the footage she needed to break a story on oil speculation and price manipulation that she'd been working on for months.
It was ten PM on a muggy September night when Vivien pressed herself into a doorway in a darkened corner of a Wall Street parking garage a few feet away from where a source had told her an FBI financial agent posing as a large institutional investor was going to pay off a debt-ridden commodities trader.
Crouched beside her cameraman, Marty Phelps, in the heat-soaked semi-darkness Vivien tried to ignore the flu symptoms she'd been battling all week. Eager to finally document the first in a string of long awaited arrests, she'd just noted the time—10:15PM—when a bullet sailed past her cheek with the force of a pointy-tipped locomotive. The part of her brain that didn't freeze up in shock, realized that the bullet had come from the wrong direction.
Marty swore, but she couldn't tell if it was in pain or surprise, and his video camera clattered onto the concrete floor. Loudly. Too loudly.
Two pings followed, shattering one of the overhead lights that had illuminated the area.
Heart pounding, Vivien willed her eyes to adjust to the deeper darkness, but she couldn't see Marty, or his camera, or who was shooting at them. Before she could think what to do, more bullets buzzed by like a swarm of mosquitoes after bare flesh at a barbecue. They ricocheted off concrete, pinged off steel and metal just like they do in the movies and on TV. Except that these bullets were real and it occurred to her then that if one of them found her, she might actually die.
Afraid to move out of the doorway in which she cowered, Vivien turned and hugged the hard metal of the door. One hand reached down to test the locked knob as she pressed her face against its pock-marked surface, sucking in everything that could be sucked, trying to become one with the door, trying to become too flat, too thin, too 'not there' for a bullet to find her.
Her life did not pass before her eyes. There was no highlight reel– maybe when you were over forty a full viewing would take too long?–no snippets, no 'best of Vivi', no 'worst of' either, which would have taken more time.
What there was was a vague sense of regret that settled over her like a shroud making Vivi wish deeply, urgently, that she'd done better, been more. Maybes and should haves consumed her; little bursts of clarity that seized her and shook her up and down, back and forth like a pit bull with a rag doll clenched between its teeth.
Maybe she should have listened to her parents. Maybe she would have been happier, more fulfilled, if she hadn't rebelled so completely, hadn't done that expose' on that democratic senator who was her father's best friend and political ally, hadn't always put work before everything else. If she'd stayed home in Atlanta. Gotten married. Raised children like her younger sister, Melanie. Or gone into family politics like her older brother, Hamilton.
If regret and dismay had been bullet proof, Vivien might have walked away unscathed. But as it turned out, would'ves, should'ves, and could'ves were nowhere near as potent as Kevlar. The next thing Vivien knew, her regret was pierced by the sharp slap of a bullet entering her body, sucking the air straight out of her lungs, and sending her crumpling to the ground.
Face down on the concrete, grit filling her mouth, Vivien tried to absorb what had happened and what might happen next as a final hail of bullets flew above her head. Then something metal hit the ground followed by the thud of what she was afraid might be a body.
Her eyes squinched tightly shut, she tried to marshal her thoughts, but they skittered through her brain at random and of their own accord. At first she was aware only of a general ache. Then a sharper, clearer pain drew her attention. With what clarity her befuddled brain could cling to, she realized that the bullet had struck the only body part that hadn't fit all the way into the doorway. Modesty and good breeding should have prohibited her from naming that body part, but a decade and a half in New York City compelled her to acknowledge that the bullet was lodged in the part that she usually sat on. The part on which the sun does not shine. The part that irate cab drivers and construction workers, who can't understand why a woman is not flattered by their attentions, are always shouting for that woman to kiss.
Despite the pain and the darkness into which her brain seemed determined to retreat, Vivi almost smiled at the thought.
There were shouts and the pounding of feet. The concrete shook beneath her, but she didn't have the mental capacity or the energy to worry about it. The sound of approaching sirens pierced the darkness—and her own personal fog– briefly. And then there was nothing.
Which at least protected her from knowing that Marty's camera was rolling when it fell. That it had somehow captured everything that happened to her–from the moment she tried to become one with the door to the moment she shrieked and grabbed her butt to the moment they found her and loaded her face down onto the stretcher, her derriere pointing upward at the concrete roof above.
DISCUSSION QUESTIONS
1. At what point in the story did you suspect that Vivi was pregnant? Did any of her actions before that discovery serve as clues?
2. Do you find Vivi to be likeable character? Does your opinion of her change—perhaps multiple times—as the story progresses? Do you find Mel to be too forgiving of Vivi's missteps?
3. What were your initial feelings about Vivi's investigation into JJ's death? Did your opinion change when the truth about his death was revealed?
4. On pages 223-224, Mel, Vivi, Ruth, and Angela discuss how secrets should be kept out of relationships, yet secrets seem to be at the center of each of their lives. Discuss the secrets that exist in each of their relationships. Do you believe that some secrets are better left untold?
5. Do you think that Vivi's reasons for keeping her pregnancy hidden from Stone are valid? Was Stone's reaction surprising? Discuss how you would have reacted in his position.
6. On multiple occasions, Vivi wrestles with whether or not to expose her niece Shelby's dating life to Mel. Do you think that Vivi handles these situations wisely? What, if anything, do you think Vivi's relationship with her niece and nephew says about her own readiness to be a parent?
7. Do you agree with Angela's belief that Vivi's gossip columns tell important truths that no one is willing to face on his or her own? Discuss your own reaction to Postcards from Suburbia and whether Vivi has any other choice but to publish the scathing column.
8. Vivi and Mel were brought up to fear, above most everything else, bringing shame upon their family name. Do you believe this upbringing has anything to do with the sisters' inability to recognize certain problems in their own lives? Discuss instances where Vivi and Mel are able to point out each other's flaws, but can't recognize similar flaws within themselves.
9. Discuss the ending of the novel. Are you satisfied by the closure that each character finds? What more do you hope would happened for Mel, Vivi, Ruth, and Angela?
10. What do you think is the major theme of Magnolia Wednesdays? Are there any lessons to take from this novel regarding both the positive and negative power of secrets, family, and/or friendships?
11. Author Wendy Wax says that she went to the University of Georgia after reading Gone With the Wind too many times. Does this enhance your experience reading Magnolia Wednesdays?