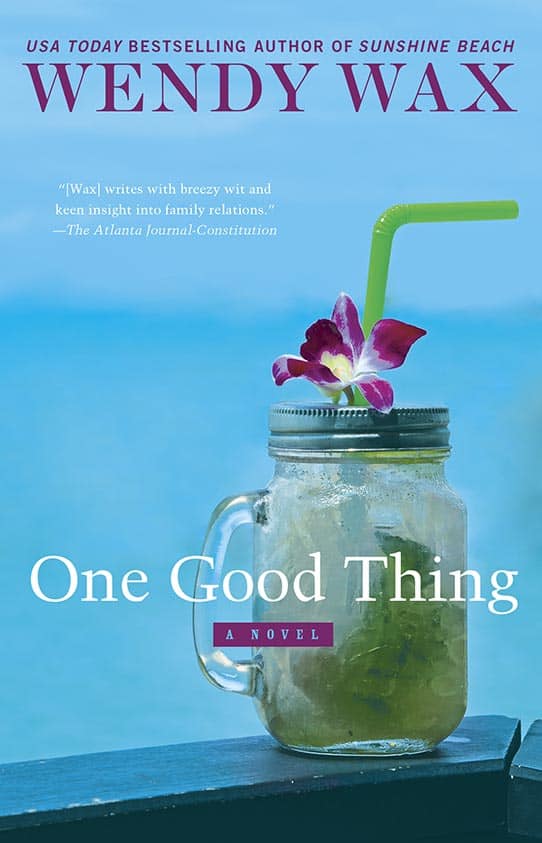 ORDER THE BOOK
Bookshop sales support Indie stores
ABOUT THE BOOK
From the USA Today bestselling author of Sunshine Beach, a story of four women trying to rebuild more than their lives…
Before you can fix it up, you might have to tear it down…
Embroiled in a battle to regain control of their renovation-turned-reality TV show, Do Over, Maddie, Avery, Nikki, and Kyra find themselves holding tight to the frayed ends of their friendship and relationships.
Maddie must face the realities of dating a rock star once again topping the charts and deal with her hapless ex-husband, while Avery is caught up in family drama even as she attempts to transform a tiny cottage into a home for the newly impoverished heiress who helped bankroll their last renovation. Put on bedrest, a hugely pregnant Nikki can't quite believe love can last, or trust in her own maternal instinct. And Kyra, who has secretly put Bella Flora at risk in an attempt to salvage Do Over, must decide whether to accept a desperately needed bail out from her son's famous father that comes with far too many strings attached…
But friendship is made for times like these, to keep each other—and their dreams—from crumbling.
"Readers will enjoy the relatable characters and how they get out of their current problems, as well as the enjoyable ode to friendship."
–The Parkersburg News and Sentinel
"Fans of Jane Green and Mary Alice Monroe will adore Wax's lively characters, witty dialogue, and heartfelt prose."
–Booklist
Maddie drove over the final span of the Sunshine Skyway, which soared high above Tampa Bay, and took the Pinellas Bayway west to St. Petersburg Beach where she was deposited directly in front of the massive Don CeSar Hotel. There she headed south into the Historic District of Pass-a-Grille, passing the hedges that hid the Sunshine Hotel from view and ultimately turning onto the aptly named Gulf Way. Drawing in a deep breath of salt tinged air, she watched a formation of seagulls sweep out of a puffy white cloud, saw the sea oats sway lightly in the breeze. Islamorada was beautiful and her time on Mermaid Point with Will was exciting, but this stretch led to home. The blocks were short and the avenues, which stretched from the bay to the Gulf were barely longer. She took her time passing the crossovers and dunes on her right and the hodge podge of mom and pop hotels and newly renovated homes on her left.
At the southernmost tip stood Bella Flora. Built at the same time as the Don CeSar, it had the same fresh-from-a-bakery-box look with pale pink walls and white icing trim framing banks of arched windows. Bell towers topped a multi-angled barrel tile roof and jutted up into the bright blue sky. She'd barely pulled into the brick driveway when the front door flew open and Dustin came bounding across the loggia, down the front steps, and through the garden to reach her.
"Geema!" he shouted happily as he threw himself in her arms and buried his face in her neck. She held his sturdy body tight and spun him around.
"I see the mutual admiration society is in session," Kyra said coming to join the group hug. "We missed you. Bella Flora's pretty fabulous, but even she's not the same without you."
"And I missed both of you!" Maddie said giving them each a last heartfelt squeeze. "You'll have to fill me in."
"What I can carry, Geema?" Dustin asked.
Maddie opened the rear sliding door of the minivan, retrieved an overnight and make-up bag and placed them carefully in his arms. "These are very important," she said solemnly as Dustin puffed up with pride. "And there may even be a present in there for you."
Together they carried her things inside. Her ex-husband stood in the high ceilinged foyer, his expression far too eager. "Why don't you let Dustin and I carry your bags upstairs?" Steve asked.
"Thank you," Maddie said keeping her voice and expression friendly but neutral. When she'd vowed to 'get her own life' she'd vowed to stop trying to 'get one' for Steve, too. But after two children and more than a quarter century of marriage this was easier said than done.
She linked her arm through Kyra's as they headed for the kitchen. Late afternoon sun slanted in through the windows that overlooked the pool and the pass, where the Gulf of Mexico bled into the bay. The Spanish tile floor, reclaimed wood countertops and soft green glass-fronted cabinets that Deirdre Morgan had chosen, welcomed and comforted. "I heard from Nikki while I was on the road. She and Joe should be here before sunset and Avery's on her way from Tampa. Is there anything here for dinner or should we run to the store?"
"Let's leave the store for tomorrow," Kyra said. "I've got plenty of snacks and I'm pretty sure there's red and white wine. And maybe we can send the guys out for pizza while we catch up."
"Sounds good. Sunset's not far off. It's not quite as warm as the Keys but if we bundle up a bit it should be perfect."
"I'm in," Kyra said. "It'll be nice to have everybody together. It's been kind of quiet here."
"How's your dad been doing?" Maddie asked as she helped herself to a glass of water.
"Well, he and John Franklin have been talking. John suggested he get a real estate license and come work for him."
"And?"
"I don't know. He still seems kind of stuck." Steve had fallen apart when he'd lost everything, including his job, to Malcolm Dyer's Ponzi scheme. Their marriage hadn't ended because he'd lost everything, but because he'd never forgiven her for carrying on when he couldn't.
"Well, maybe we need to push a little harder to get him unstuck," Maddie said before she could stop herself. "No, strike that. This is his life. He needs to figure it out for himself."
"I don't know, Mom. I don't think he's all that motivated. And I don't think he knows how to live on his own."
Maddie kept her mouth carefully closed. Steve Singer was no longer her husband. What he did with his life was not her responsibility or even her business.
A tap of the horn announced Avery's arrival and there were hugs all around. Avery had opened both bottles of wine and filled a large bowl with Cheez Doodles by the time Joe and Nikki arrived. Joe looked calm and collected as always. Nikki not so much.
"Wow, look at you!" Avery said taking in Nikki's huge stomach.
"Please don't. I try not to," Nikki replied.
"I think you look beautiful," Maddie said slipping an arm around Nikki's shoulders as Joe sent her a grateful smile. "And so do those babies. May I?" She reached a hand out toward Nikki's stomach.
"Have at it. I think they're as tired of sitting in that car as I am." She stretched and yawned.
"I'll grab our things," Joe said. "Do you want to lie down?"
"No, thanks." Nikki yawned again.
"We'll get her a seat outside for sunset. Are you up for going out with the guys for pizza?" Maddie asked Joe.
"Sounds like a plan," Joe said easily, but he looked closely at Nikki as if to assure himself she was really okay.
Nikki yawned again and rotated her head on her neck, clearly trying to work out some kinks.
"I can't believe you drove," Avery said. "Doesn't your stomach get in the way?"
"Yeah, well, I wish you all had been there to talk her out of it," Joe said. "I have hostage negotiation training, and I'm powerless to convince her of anything." His tone was light but Maddie could see the concern in his eyes.
"Well, fortunately, you both made it. And no one looks the worse for wear," Maddie said.
"So you never practiced on a woman pumped full of pregnancy hormones?" Avery asked.
Nikki snorted and helped herself to a handful of Cheez Doodles.
"Nope," Joe said. "But I think I'm going to suggest they add it to the curriculum at Quantico." He smiled and pinched a Cheez Doodle. "I've faced a lot of challenges on the job, but I'd sleep a little better at night if I knew the FBI had the ability to talk a pregnant woman into laying down her weapon. You know, just in case the need ever arose."
Book Club Kit
The One Good Thing book club kit includes discussion points and a suggested Book Club menu.
Discussion Questions
1. When the book opens, Bitsy Baynard is dealing with the fact that her husband stole all of her money and ran away with another woman. Do you think Bitsy should have made Bertrand sign a prenup? Do you believe in prenups?
2. Bitsy and Bertrand were initially introduced by Nicole Grant of Heart Inc., who worked as a matchmaker. Do you think matchmakers can be a successful way to find love? Would you ever hire a matchmaker?
3. William Hightower could have any woman he wants. Why do you think he is attracted to Madeline Singer? Will asks Maddie to go on tour with him, and Maddie is reluctant to do so. Do you understand her reluctance? Why do you think women often have such a hard time putting their needs first?
4. Nicole is terrified that Joe is going to change his mind and leave her and the babies. She doesn't believe she can have a happy family of her own. Why do you think Nikki feels this way? Have you ever been in a situation where you knew your fear wasn't warranted, but you were terrified anyway? How did you handle it?
5. Avery Lawford is an architect and licensed contractor who finds the aromas surrounding construction relaxing. She attributes this to spending time on her father's construction sites as a child. What is your stress buster? When and how did you discover it?
6. Chase and his son Jason are at odds for most of the book, and Avery finds herself caught between them. Do you think she handles the situation well? How do you feel about Chase's behavior? Why is he so tough on Avery?
7. What do you think Bella Flora symbolizes for Maddie, Nicole, Avery, and Kyra? Is there a family home or a place like Mermaid Point that holds particular significance for you? Why? Would you risk losing it for the chance to achieve a lifelong dream or goal?
8. Kyra has to decide whether or not to let her son, Dustin, star in a move with his father. What do you think she should do? Would you let your child star in a movie? Is that kind of pressure and attention good or bad for a child?
9. What do you think of the tiny house movement? Would you want to live in a tiny house? How many square feet would you need to feel comfortable?
10. At the end of each day, Maddie, Nicole, Avery, and Kyra share one good thing to toast at sunset. What—or who—is your one good thing today? Wendy Wax would love to know, so be sure to share your #OneGoodThing on Twitter or Instagram, or on Wendy's Facebook wall!